dipos Glass
Better than mineral tempered glass.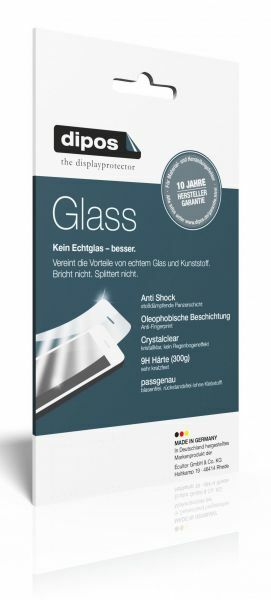 No real glass - better.
Combines the advantages of real glass and plastic.
Does not break. Does not shatter.


Anti-Shock Screenprotector
shock-absorbing layer
Oleophobic coating
Anti-Fingerprint
Crystalclear or optionally Antireflex
crystal clear or matt, no rainbow effect
9H Hardness (300 g)
very scratch resistent
a perfect fit
bubble free, residue free (without glue)


dipos Glass is available in Crystalclear (clear, transparent) and in Antireflex (non-reflective, matt). The surfaces are comparable to those of the classic dipos Crystalclear and dipos Antireflex screenprotector films.
dipos Glass is a plastic composite material that neither splinters nor breaks.
Mineral glass (also known as real glass, tempered glass, etc.) has a decisive disadvantage in practice: it breaks and splinters.
A slight impact can be enough to damage the glass. This disadvantage relativizes the actual advantage, namely that real glass is very scratch-resistant.
This is comparable to glasses. The advantages of a plastic lens outweigh the slight disadvantage that the plastic does not have the same scratch resistance as mineral glass.
Therefore we believe that dipos Glass is probably the best screenprotector on the market.
9H Hardness (300g)
With 9H hardness at 300g pressure dipos Glass is very scratch-resistant for a plastic.
It is not quite as scratch-resistant as mineral glass, but we firmly believe that the given scratch resistance is more than sufficient for everyday use.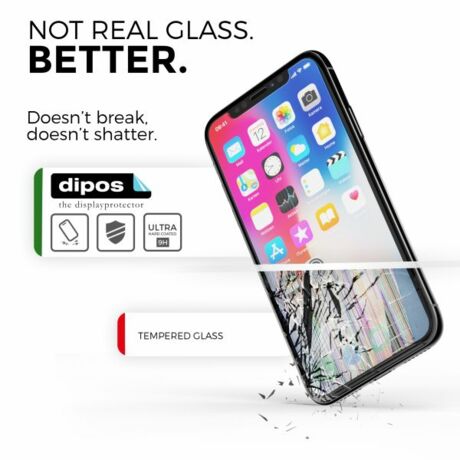 Doesn't break, doesn't splinter.
dipos Glass contains shock-absorbing, absorbing properties.
This gives you ideal screen protection if your device hits the edge of the table or falls down.
Unlike mineral glass (tempered glass), dipos Glass does not break or shatter.
Asembly
The material itself has a similar stiffness as real glass.
It is not as wobbly as you know it from classic plastic films.
Accordingly, it is just as easy to apply as real glass. You simply remove the lower carrier completely, place the dipos glass on the display and that's it.
Of course you can remove the dipos glass at any time without leaving any residue.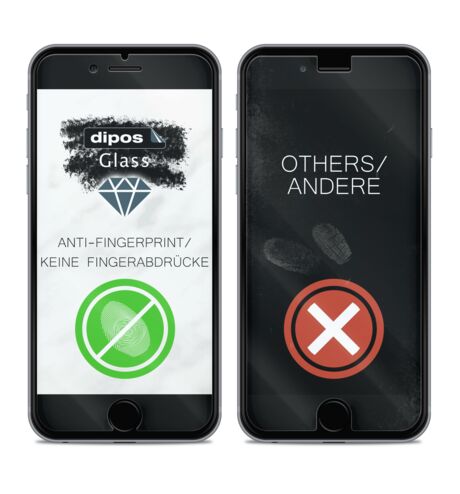 Oleophobic anti-fingerprint coating
Thanks to the oleophobic coating, fingerprints and dirt adhere less strongly to the surface.
This effect is particularly noticeable with anti-reflection.
With Crystaclear it is comparable to most display surfaces of the devices.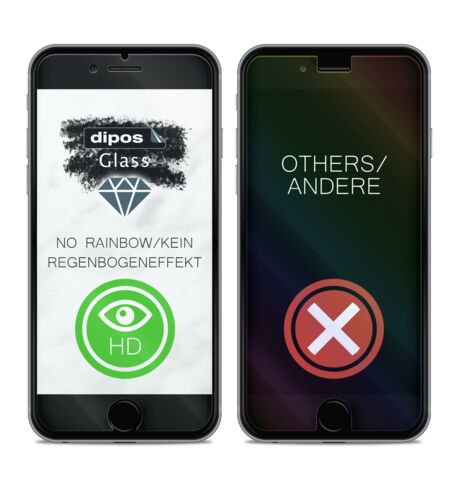 No rainbow effect
The rainbow effect, which occurs with many glasses, does not occur with dipos glass.
And of course ...
what you expect from a dipos screenprotector made in Germany:
Perfect fit by means of filigree laser cutting.